Welcome to NJVball.com
Information on the sport of volleyball in
New Jersey.
HEY, LOOK HERE!....
NOTICE: END OF SUMMER TOURNAMENT CANCELED!!!!!
Due to a lack of sufficient registration for tomorrow's tournament, we are forced to cancel the End of Summer tournament, which was scheduled for tomorrow, October 5th. All registration fees will be refunded in full.
It is a disappointing end to an otherwise successful summer season at Bung's, but thank you to all those who played with us this summer. NJVball is working on more volleyball opportunities for next year! Check back!
Altobelli/Cook take Session II 2's Crown!
NJVball's own Dan Altobelli and Matt Cook took the Session II 2's title last night in a hard-fought match against Belov/Mills. The games were 21-16 and 30-28. Congratulations to us and thanks to all the players who participated this year. Session I of 2014 will start in May of next year, and we are looking for more teams!
Doc's Girls Take Charity Match!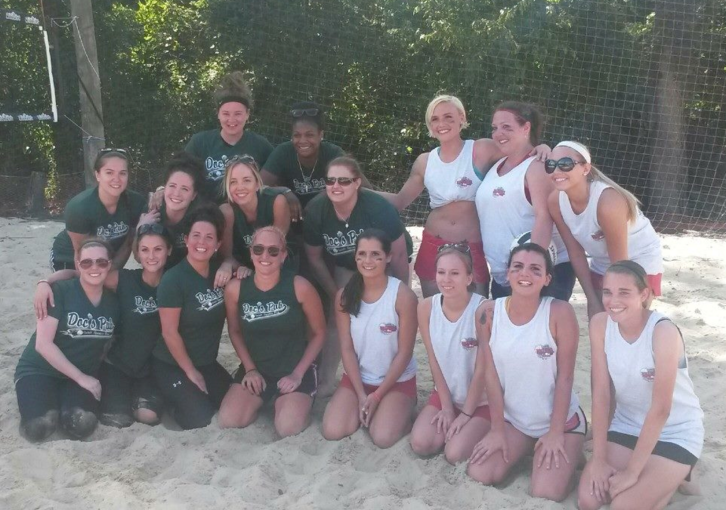 Congratulations to the girls of Doc's Pub, who eeked out a victory against the girls of Bung's Tavern on Saturday, (15-21, 21-15,17-21,21-16,21-15). Everyone had a great time, and money was raised for the Burlington County SPCA. We hope to do this event again next year, and maybe a few more Burlington bars will get involved!
Thursday Night 4's Champions -
Count B
lockula!!!
Congratulations to Count Blockula for winning the Thursday Coed 4's League for 2013, defeating 100 Proof in the best of three final match, and thanks to all who partcipated this season!!!
Wednesday Night 6's Champions -
Sparky's Deuces!!!
Congratulations to Sparky's Deuces for winning the coed 6's league last night. After a dominant 45-3 record during the regular season, they swept through the playoffs without a loss. Captain Jeff (Jeff Jeff Jeff Jeff Jeff) Pagano said afterward "This one was for Adam, he was there with us all season."
Monday Night 4's Champions Crowned!
The Cunning Stunts defeated last year's defending champion Corn Muffin Ninjas in a close match to win the 2013 Monday Night 4's league. Thanks to all the teams that participated. The playoff results have been posted, and photos will be posted very soon!
NJVball Updates: Please don't let the summer end!
Ah, I wish we here at NJVball has that kind of power, but we do not. However, what we CAN do is give you some information about all the beach volleyball that remains for this season!
Our friends as Great American Volleyball have 2's tournaments going through the weekend of Sept 21st! Four different levels of Mens and Womens on Saturday, and three levels of Coed 2's. This weekend in particular is special because it's the annual D.A.G. charity tournament in Seaside Heights to benefit cancer research. For information and registration, please visit
http://www.volleyamerica.com/VA-Beach-Volleyball-Events.aspx
The weekend of September 6-8 will be a volleyball mecca that you don't want to miss! There are THREE separate events taking place that weekend:
Last, but of course not least, New Jersey Volleyball is working on another coed 4's tournament for late September/early October at the Beach at Bungs to close out the summer season. More details to follow.
So don't despair, there is still a lot of volleyball to be played this summer! Will YOU be there?
The New Jersey Volleyball Store is OPEN!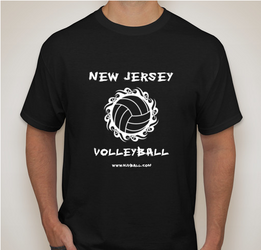 Do you like that shirt to the left?
Well, you can have one (or more)
(aka, please buy a shirt!)
New Jersey Volleyball's store is open and accepting orders.
Currently we have the logo t-shirts in three colors available.
More items will be added in the near future hopefully.
Click

HERE

to go shopping, or use the Store button in the menu bar!!!
NJVball presents:
Horrible Volleyball Movie Clips!
For anyone who as ever played, touched, seen, or had knowledge of the sport of volleyball, the final "set" from Monroe Clark (C. Thomas Howell) to Zach Barnes (Peter Horton) that ends this match is beyond illegal: it's abominable.
How did Sinjin and Randy even allow it to be put on film?
Enjoy the chuckle.
New Jersey Volleyball Tournament Results
Congratulations to Lauren, Jinal, Katelyn, and Jon on winning the first New Jersey Volleyball coed 4's tournament this past Sunday at Bung's! The winners received a purse of $480, a $100 gift certificate to Bung's, and four of the new New Jersey Volleyball T-Shirts!! Thanks to everyone who participated in the tournament.
Look for another 4's tournament taking place in the early fall to close out the New Jersey Volleyball season!
Tuesday Night 2's Session II
Starts Tomorrow Night!
The second summer session of Bung's Tuesday Night 2's starts on July 23rd! We are still looking to add teams to the league, so we are extending registration until tomorrow!!! We will even make accomodations for those teams who can't make it tomorrow, but could make it starting on July 30th until the end of the season!
Tuesday Night 2's Session I Champs Crowned!!!
Session II openings still exist!
Congratulations to Ryan McGinley and Adam Brosius for winning the Tuesday night 2's Session 1 league to cap off a dominant season!
The second summer session of Bung's Tuesday Night 2's starts on July 23rd! We still have openings in the Advanced and Intermediate divisions for teams. If you are interested in registering, please contact
dan@njvball.com
. You can register a team, or just yourself, and we'll try to match you up with someone.
The cost is only $100 for the 10-week session. Hope to see you there!
Bung's Summer Volleyball Updates!
The Wednesday night Co-ed Recreational 6's starts tonight! Check the

Wednesday Page
for the schedule and any weather-related cancellations!
The 2-man Tuesday Session I is underway! We currently have FIVE openings for Session II, which starts July 26th. Intermediate and Advanced divisions. Email us by clicking
HERE
if
you are interested.
Last, but certainly not least, NJVball will be hosting a weekend of volleyball tournaments at Bung's on July 20th and 21st. A recreational co-ed 6's tournament will coincide with Bung's annual Luau on Saturday July 20th, and a competitive co-ed 4's tournament will be held on Sunday, July 21st. All teams registering will get a free ticket to Saturday's Luau event, and winning teams each day will receive prizes. The Luau page will be up soon, with all the details and registration information!
Great American Volleyball Summer 2013
Our friends at Great American Volleyball have posted the summer schedule for 2013. Due to the devastation at the shore last fall, the start of the season is delayed until June 1st. Check them out at www.greatamericanvolleyball.com, and participate in some great competition this summer!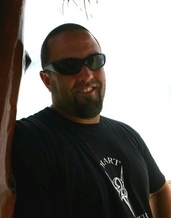 It is with deep sadness that we at NJVBall.com heard of the tragic passing of our friend Adam Fiore. For those of you who did not know Adam, you missed out on one of the coolest, funniest, most infectious people we personally have ever known. He was one of the captains in the Wednesday night Bung's Co-ed 6's league, as well as the original founder of the Monday Night 4's league.
We did not know Adam as well as so many others, so we will let their words speak to the man he was, and to the sadness that has been left by his passing. We express our deepest sympathies to his family and friends, and can only say that those who are never forgotten, never truly die. And Adam will never be forgotten.
Dan and Matt, NJVBall.com