Welcome to New Jersey Volleyball!
Bung's Sand Project Postponed!
Due to unforseen circumstances, we have to postpose the Bung's Sand project to a later date. We apologize for any inconvenience and we will reschedule ASAP.
A Stroll Down Memory Lane...JSVBA
While searching on the internet, we came across the old website for the Jersey Shore Volleyball Association (JSVBA). The JSVBA ran until (at least) 2005, and was the organization that hosted volleyball tournaments on the Jersey shore when the AVP wasn't in town. It was the predecessor of many other volleyball organizations, including GAV, and many of the top players came through the JSVBA over the years. We thought it might be nice for those of us who played in the JSVBA to look back at a great time in the history of New Jersey volleyball:
Charity 6's Volleyball Tournament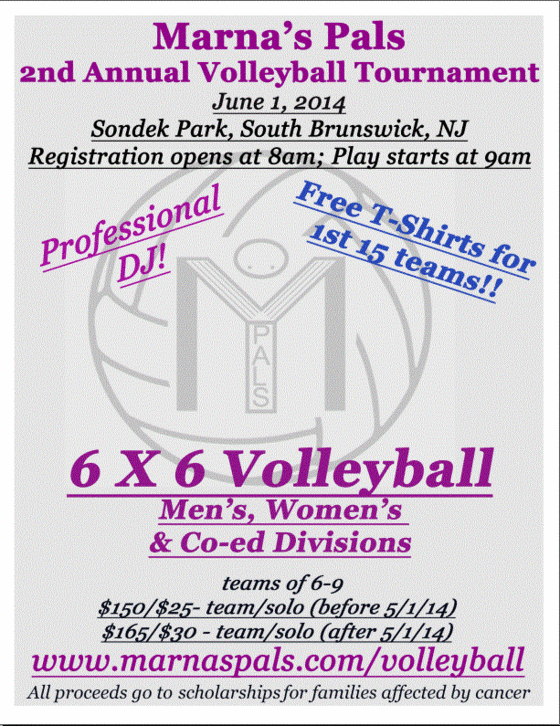 June 1, 2014 is the 2nd Annual Marna's Pals Charity Volleyball Tournament! The information is posted above. Please visit

www.marnaspals.com/volleyball

to register!
ECBVA Youth Academy Openings!
ONE WEEK LEFT - registration ends 4/15/14!!
(4/8/14) - Our friends at the East Coast Beach Volleyball Academy are running their annual volleyball academy for ages 10-18 this summer. It is a great opportunity for youth to improve their skills in the 2's game under the instruction of some of the best coaches in the area, including some NJVballers!
Click
HERE
to go the the information page on the academy to learn about the program and registration instructions.
Special Olympics Volunteers Needed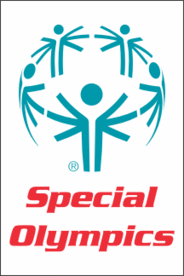 The 2014 Special Olympics USA Games are being held between June 14-21, with the volleyball portion running June 16-20. The USA Games will be unlike any other Special Olympics event you have ever seen or heard about with tens of thousands of athletes and fans consuming nearly every athletic facility within 10 miles of Mercer County, NJ (volleyball will be held at Rider University). With an event so huge comes a dire need to recruit volunteers to help make the event successful. While we were in a great position to fill many of the positions using the local high school volleyball community, many of the volunteers had to back out due to their school year being pushed back thanks to snow. As a result, we are now faced with the daunting task of filling nearly ½ of our volleyball specific positions. I am asking each person reading this to strongly consider signing up and becoming a volunteer to help us make this event as incredible as these amazing athletes deserve. Coaches- please encourage your players to do this as well (just as I have with my own club and college players). Should you be interested in volunteering at least one 8 hour day, please follow the steps show below.

If you have any questions on volunteering, please email volunteer@2014SpecialOlympics.org. I thank you all for your time and support.

Mike Vajo
2014 Special Olympics USA Games
Volleyball Committee-Director

How to sign up for volleyball:

- Go to www.2014specialolympics.org/player/volunteers
- Scroll down and click 'General Volunteer Registration is Now Open'
- On the right side of the page, like the 'REGISTER NOW' button
- Provide email and select new user (unless you have already created an account)
- At the bottom of the page, select 'General Volunteer'
- Fill out information. IF PROMPTED FOR AN ACCESS CODE, USE THE WORD 'VOLLEY'. Also, select 'VOLLEYBALL' under 'Areas of Interest'. Click 'Register'
- Initial and click 'I Accept'
- Scroll down to Volleyball, pick a job and pick your hours! If you have volleyball experience, please sign up for an appropriate volleyball-specific job (line judge, score book, etc.) as those are where we're going to need the most help. The minimum commitment is one 8 hours day.
Tuesday 2's Registration is Open!
(3/31/14) - Registration is now officially open for the Tuesday Night 2's league at the Beach at Bung's! Please go to the Tuesday 2's page and fill out the simple registration form. You can register for either Session I or Session II. Remember, you must be 18 or older to play. Please note that returning teams from last season get registration preference, and that the Commissioner will make the final ruling on what Division (AA or A) a team is placed in.
Click

Here

for more information on the league, and to submit your registration. Space is limited, so act now! See you on the beach!